When we began Jetty our community included only our local LBI Region at home on the Jersey Shore. As we grew our brand and Foundation, we expanded the definition of community to include our retailers, ambassadors, the surf and outdoor industries and many areas where people make their lives around the water. Lifting up and educating the people within our community has always been a primary initiative. We have several major events as well as pop-up, reactive ones which allow us to focus in on specific causes.
Jetty Coquina Jam
In 2008, female surfers competed in our Jetty Clam Jam surf contest and we soon realized that they deserved their own day. In 2009, we constructed the Coquina Jam, an all-female, team-oriented bracket style surf contest. We added a charitable element and soon partnered with David's Dream & Believe Cancer Foundation. The event has grown immensely from the age range of the surfers to the amount of funds raised. In 2021, the 14th Annual Coquina Jam raised over $100,000 and put our total Coquina Jam funds raised to well over $300,000 (2009 - 2022).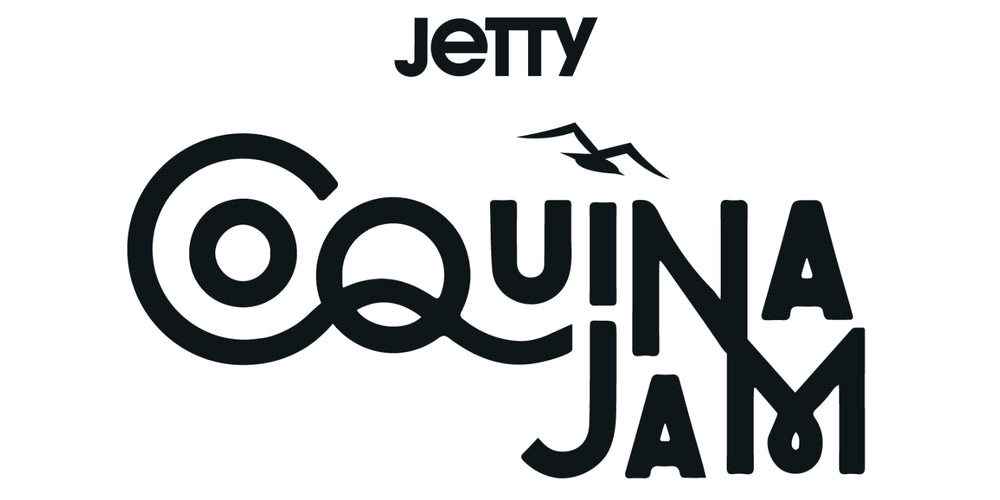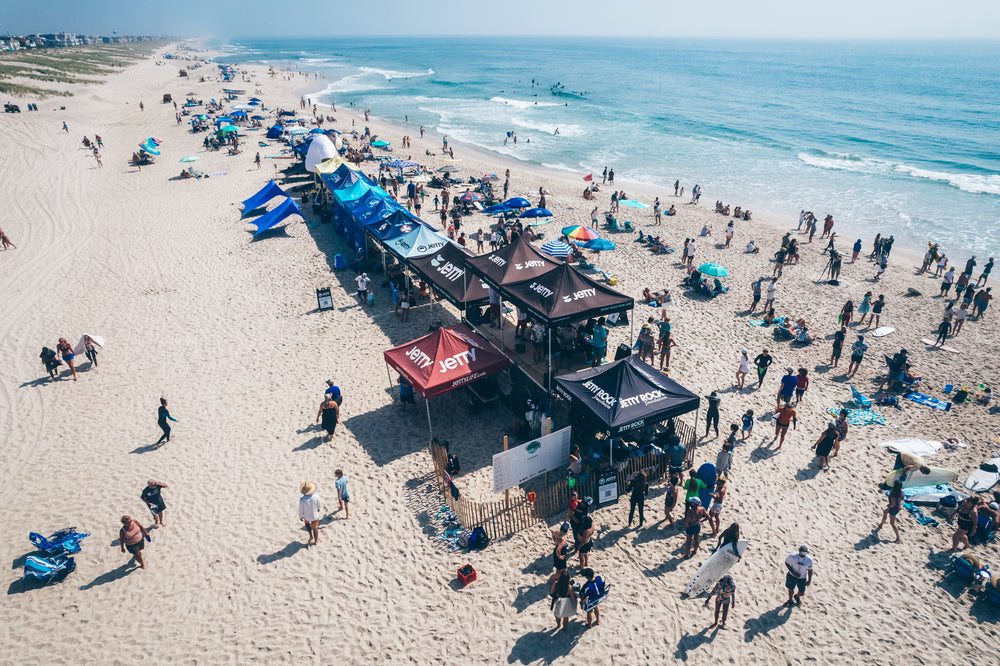 Arctic Outreach
This "Clambake of Arctic Proportions" centers around Mallory McBrien and is held in her loving memory each year. The event takes place outside in the Winter, but we ask the community to be as brave as those who are suffering far worse conditions than the weather. Arctic Outreach has raised and donated in excess of $285,000 (2016 - 2022).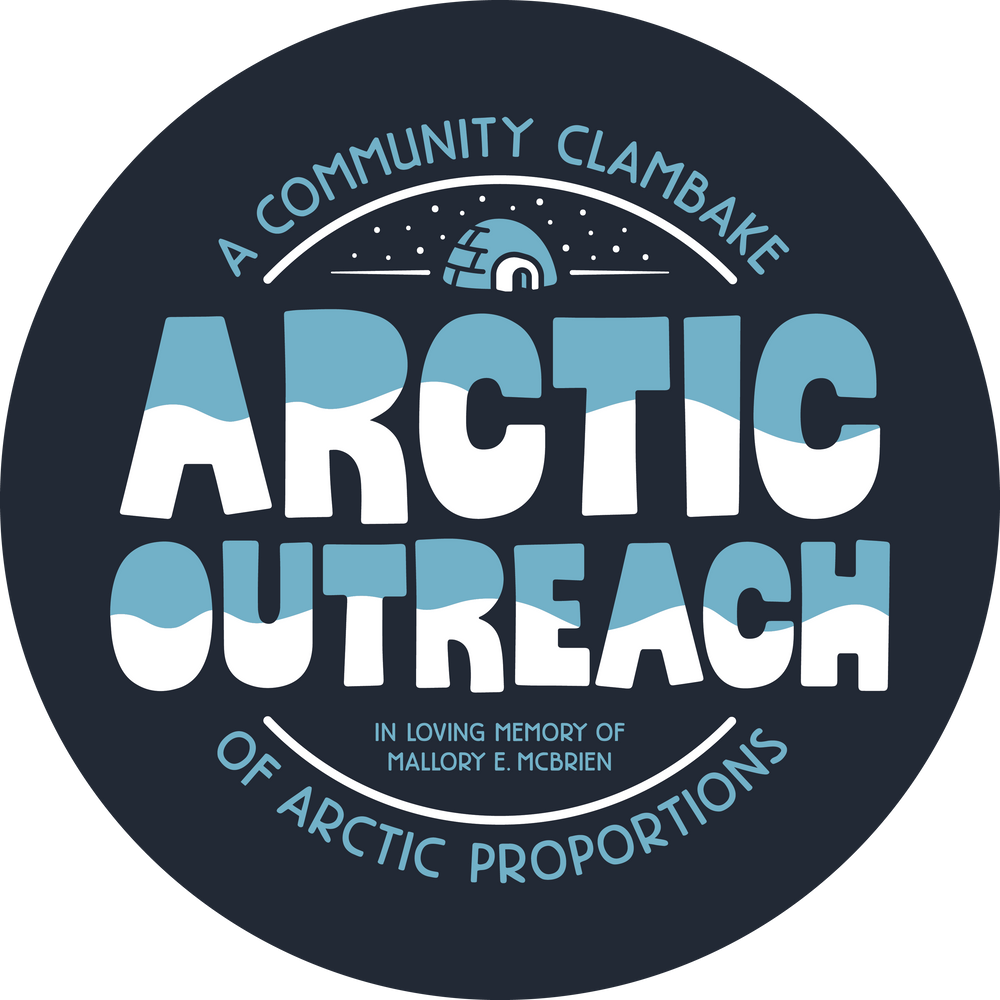 Butchy Bash
On November 13, 2021 we executed this event in partnership with Tuckers Tavern and the ALS Association Greater NY Chapter for a local who has lived his entire life around the water. We raised $15,000 to assist a family as well as the partnering foundation.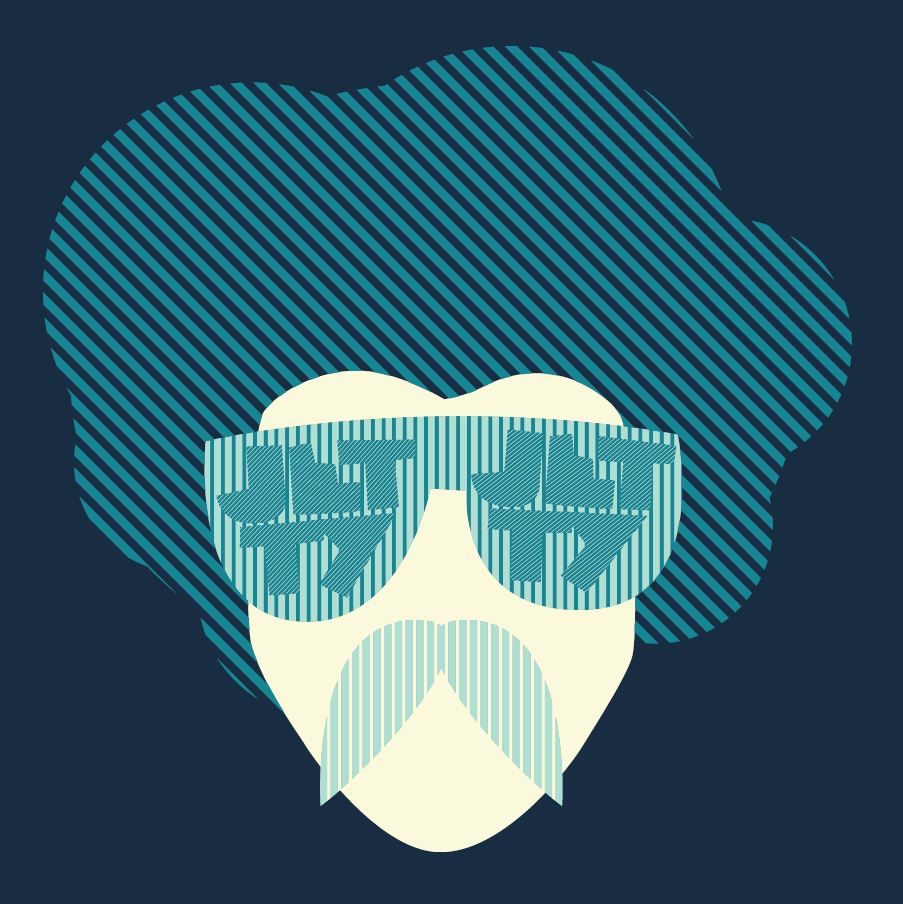 Rising Tides
Our reaction to the onset of the COVID-19 pnademic in March of 2020 was a rescue mission focused on our retailers. Business was at a standstill and we set out to raise funds for our customers who's doors were closed. The Rising Tides Initiative allowed online shoppers to select which local retailer they wanted to channel profits toward. We sent in excess of $90,000 to our retailers in 2020 and thankfully they were able to open for business by the Summer.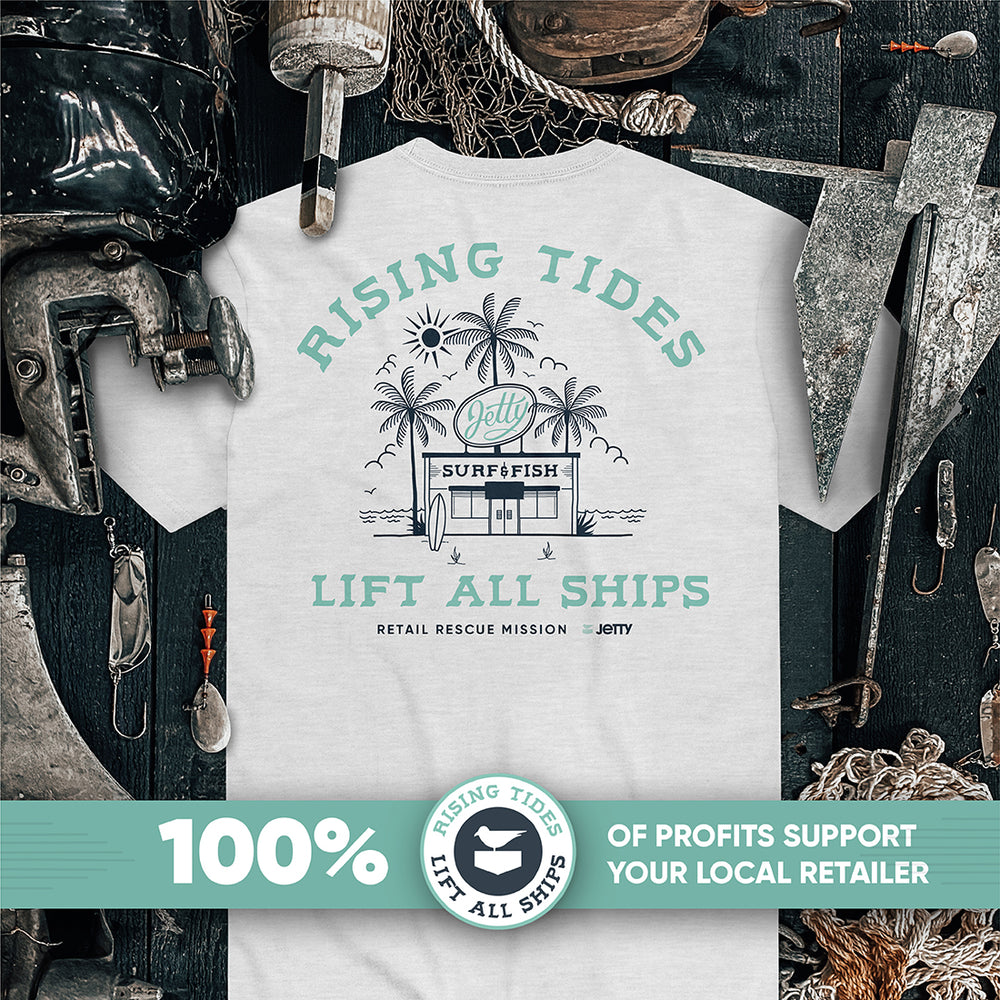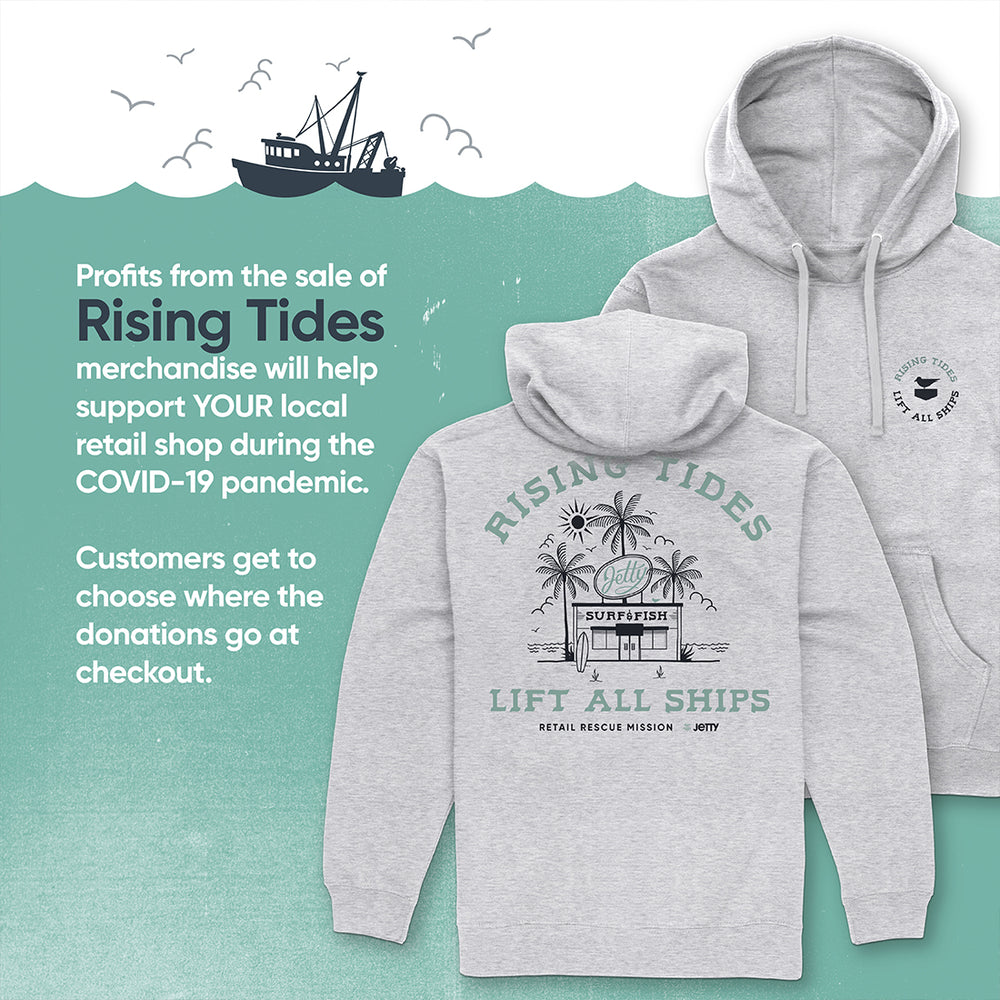 Raised Glasses
As the pandemic raged on in 2020, we wanted to help another group of businesses, our local watering holes. We used the same blueprint as our Rising Tides Initiative, but went hyperlocal with it to assist Long Beach Island, NJ bars through the purchase of our limited edition collection. We traveled from the North to the South end of the island and handed out $48,200 in checks to assist them with outdoor dining capabilities and anything else that they needed the funds for.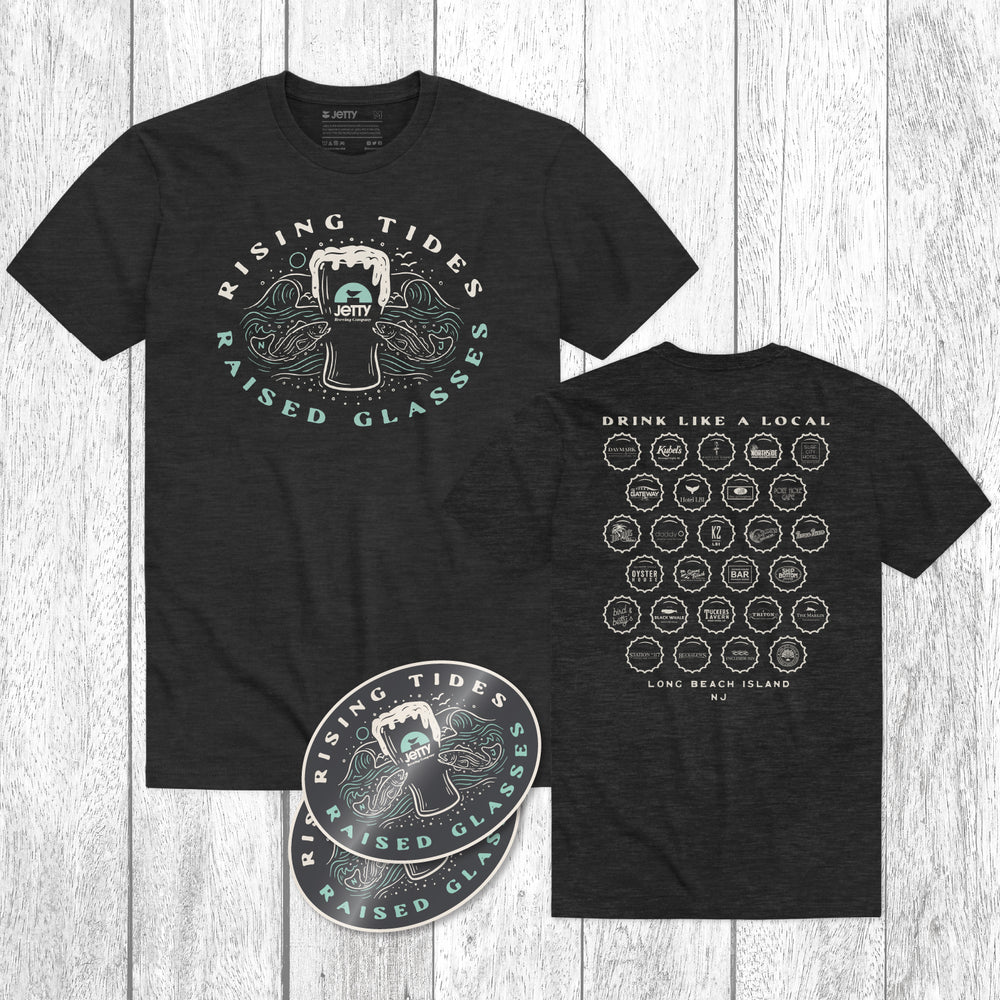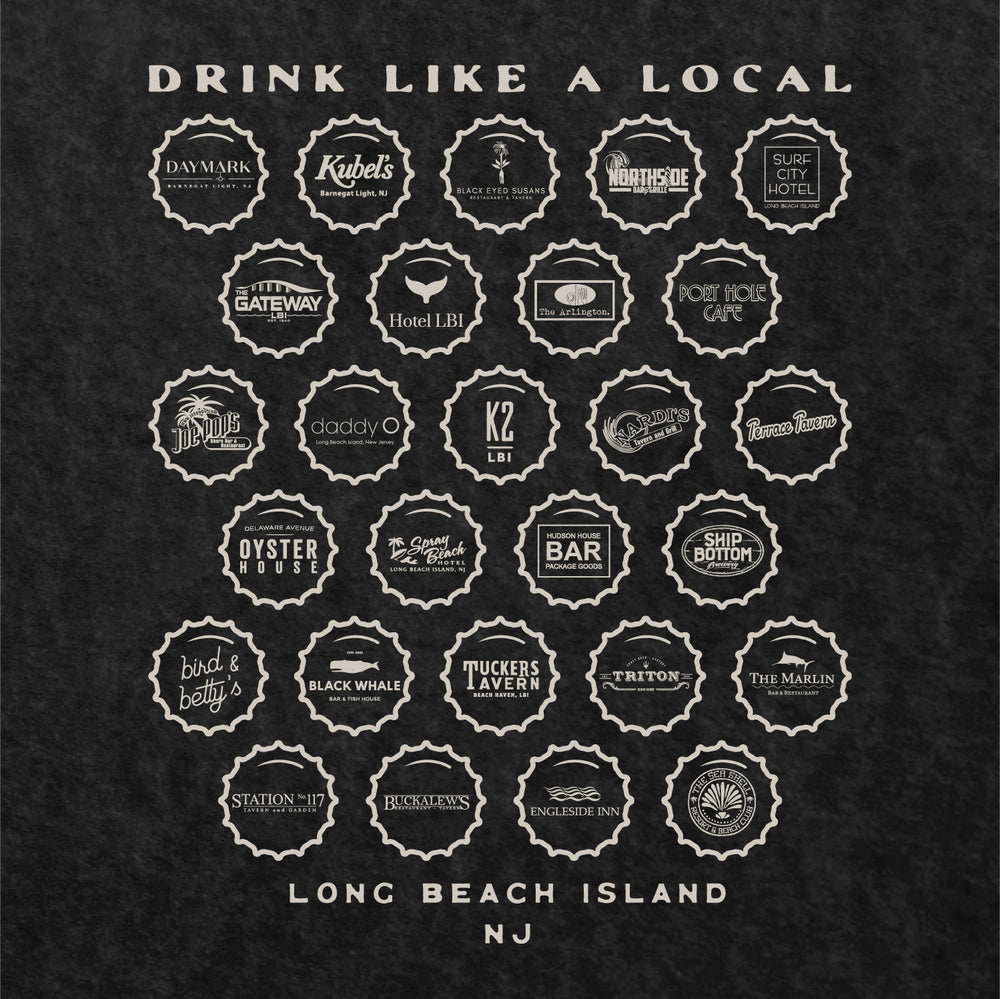 William Butler Park Pavilion
In 2018, we set out to build a pavilion on the Taylor Avenue Waterfront in Beach Haven, NJ. Finished in 2019, the space is used by students at the Beach Haven School as well as by the general community. The project cost $24,300.55 and was made possible with generous contributions from Spice It Up, Fantasy Island Amusement Park, Tuckers Tavern, the Borough of Beach Haven and Beach Haven Public Works Department.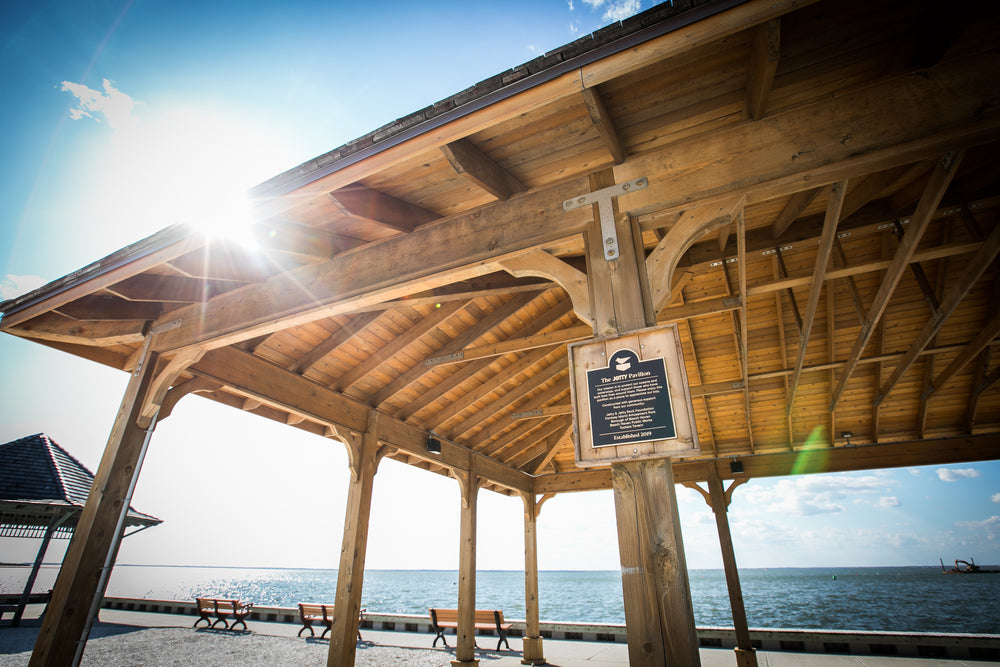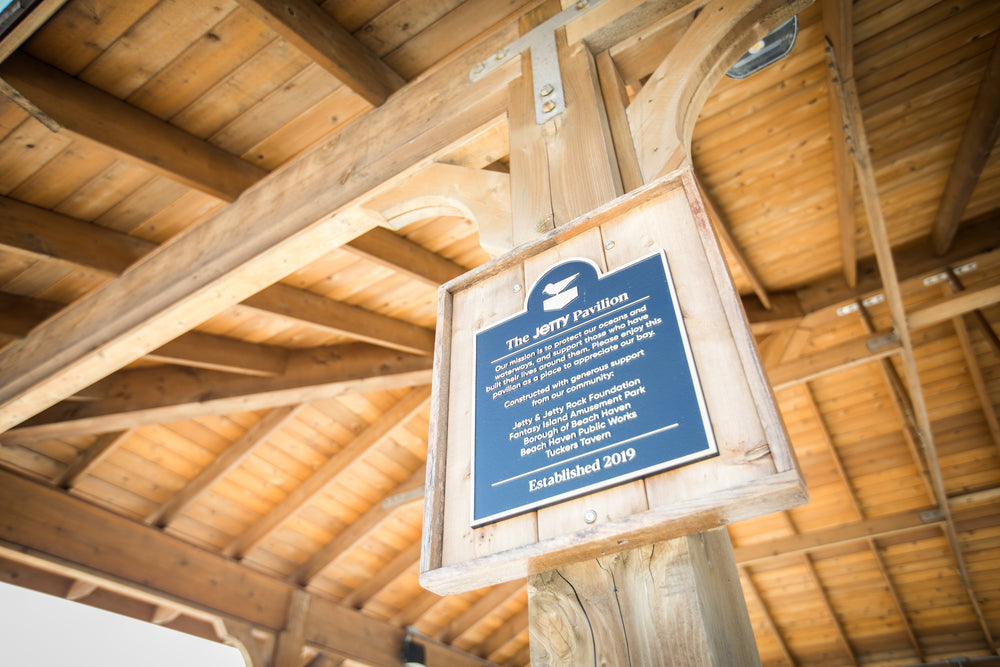 Too Inspired To Be Tired
On Saturday, October 13, 2018 we joined together to raise funds for a family battling brain cancer. The Dieffenbachs have deep surfing roots in Ocean and Monmouth Counties (NJ) as well as FL. We raised $31,707.77 to keep them moving in a healthy and positive direction.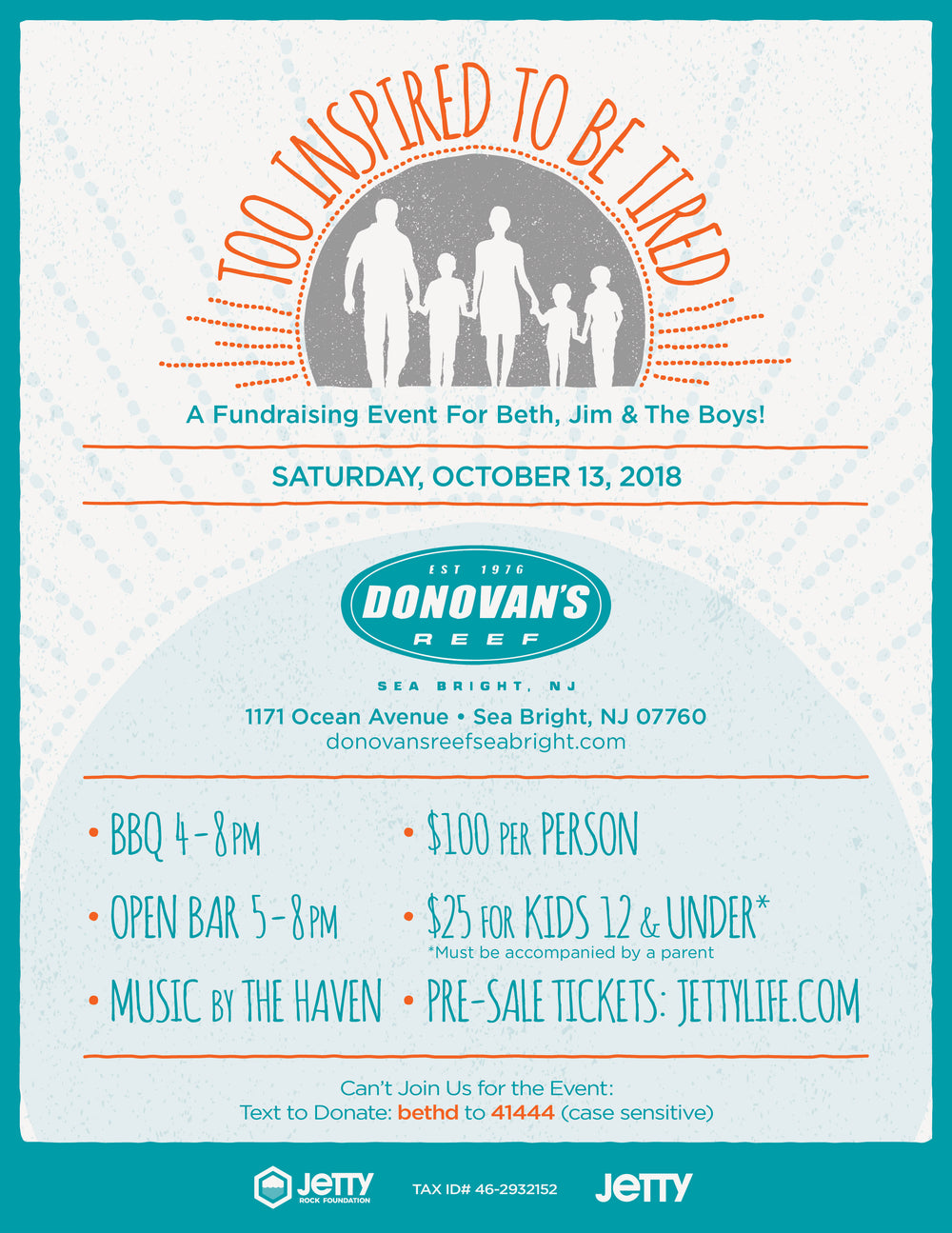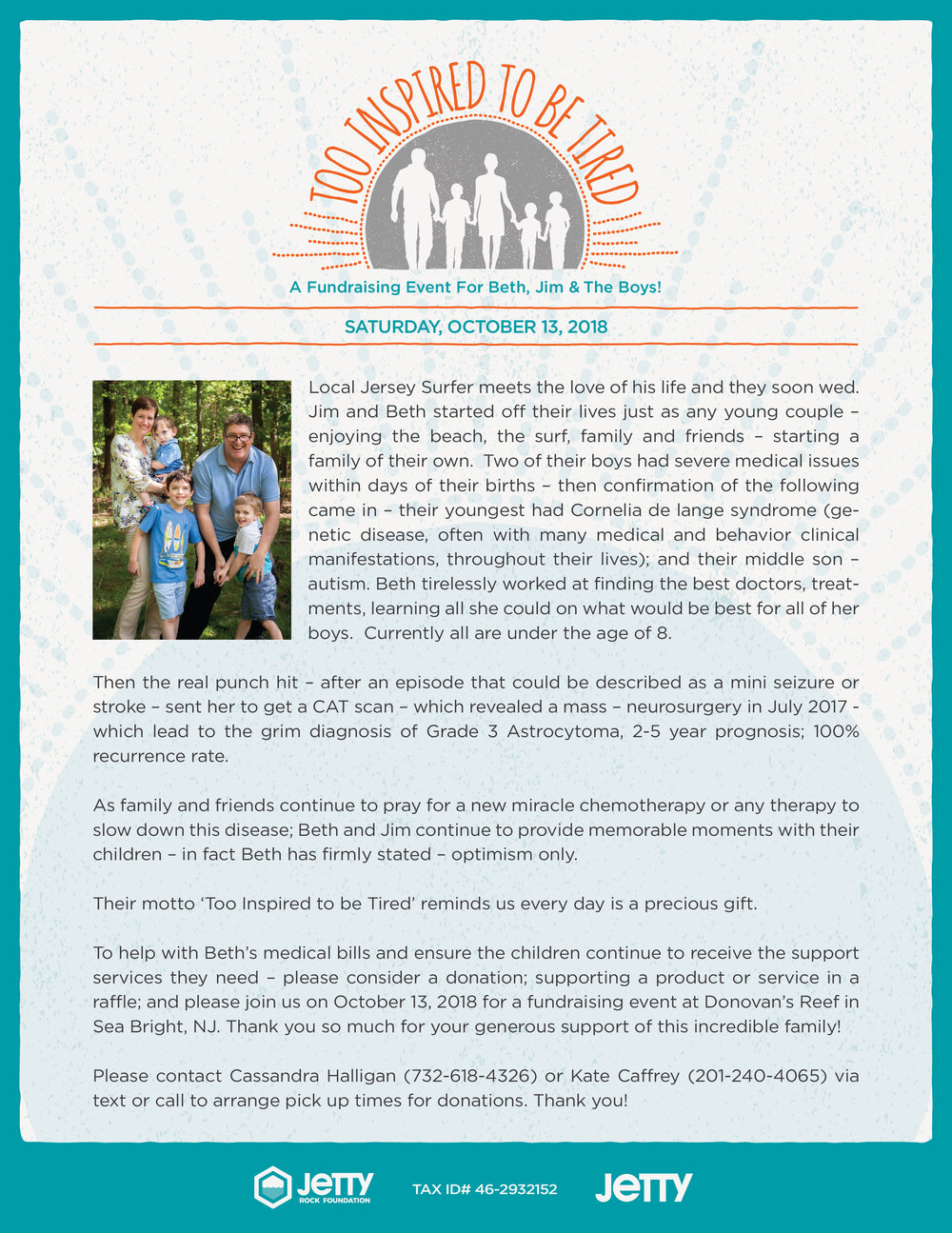 Tim's Tribe
This initiative was reactionary after a fatal motor vehicle accident took a coastal chef away from our community. In the spirit of his own giving throughout the years, we executed a massive Back-to-School shopping spree for local students in need. We donated in excess of $29,000 to the students, Tim's family and other educational needs.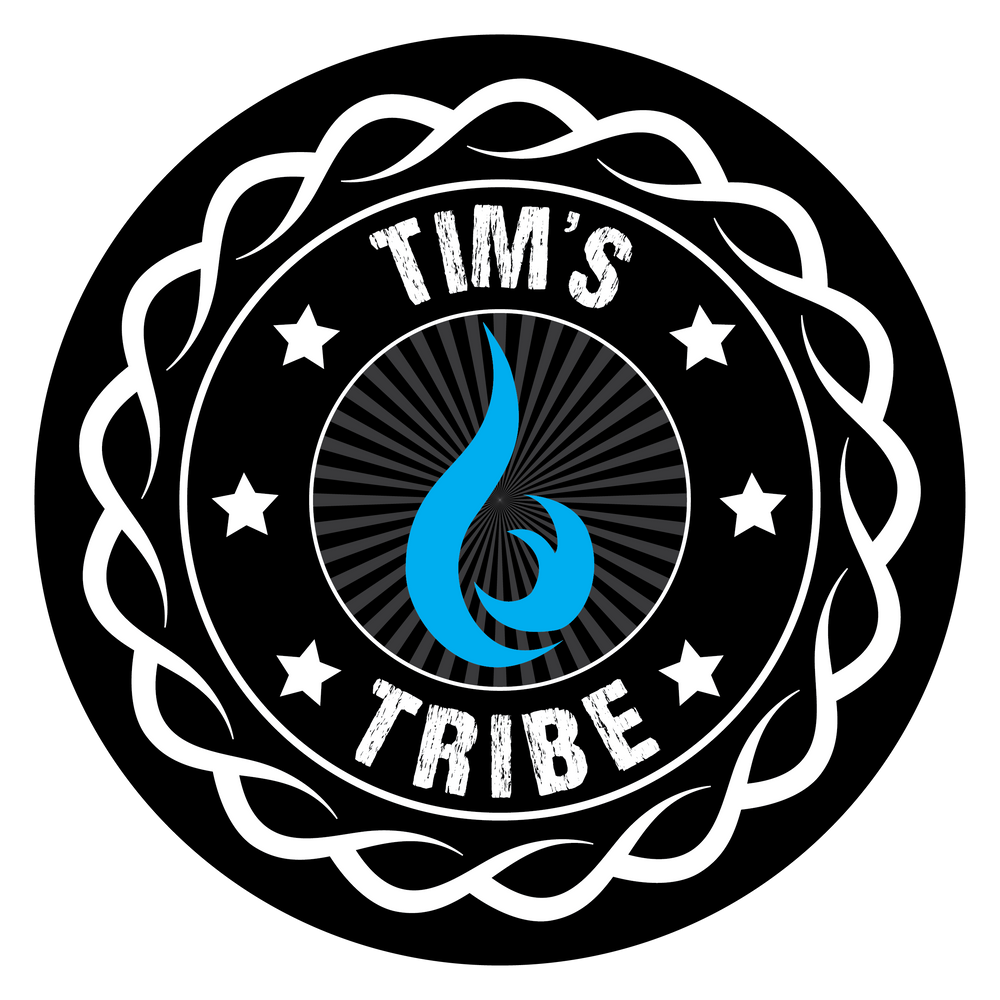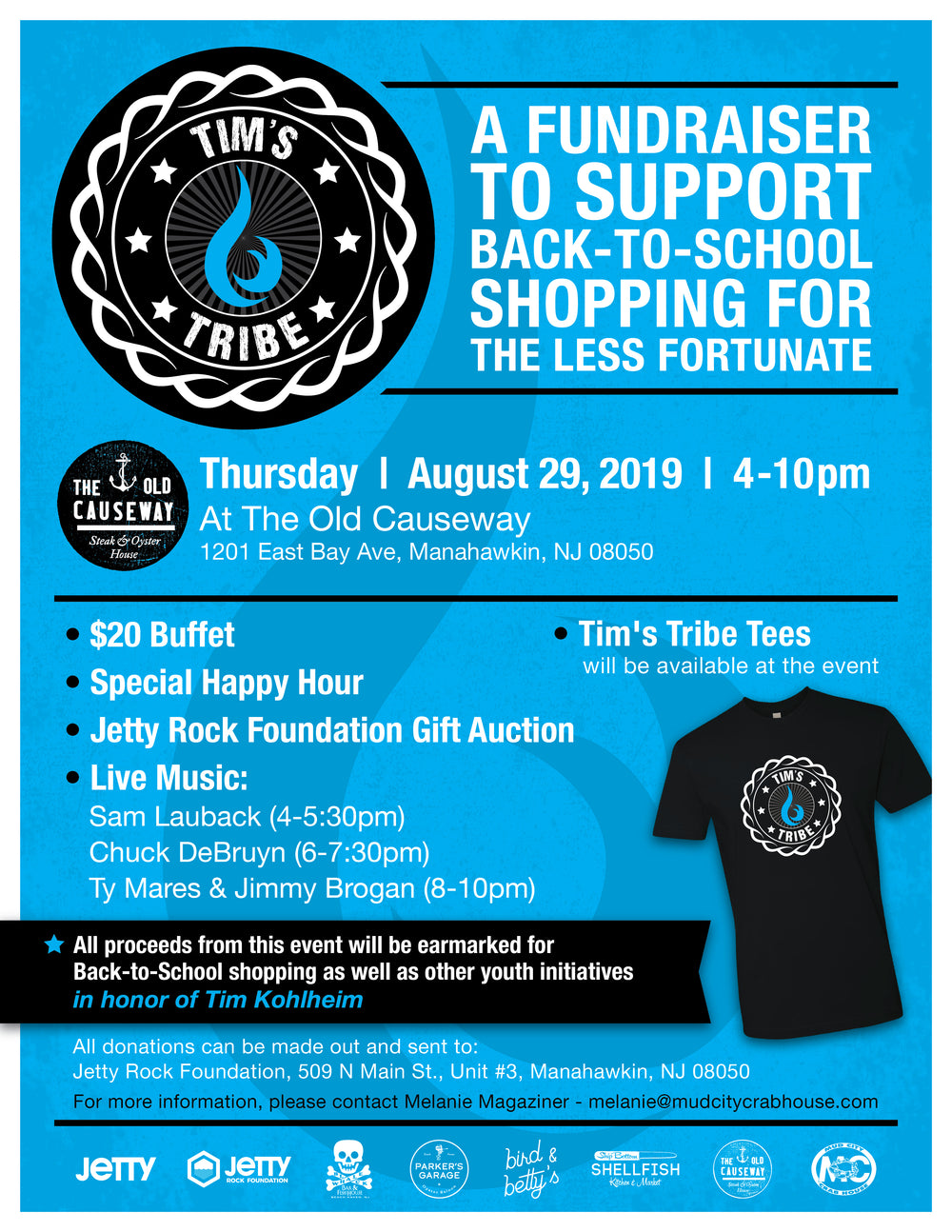 P$TRONG
Patrick Harrington was, without a doubt, the biggest Jetty supporter to ever walk this Earth! He may have lost his battle with Cancer, but his passing truly inspired an entire community to "Live Like Pat". We ran a few different initiatives to support his battle and had a beautiful paddle out on July 17, 2021 to celebrate Pat's life. We donated in excess of $25,000 and we'll always keep his stoke alive!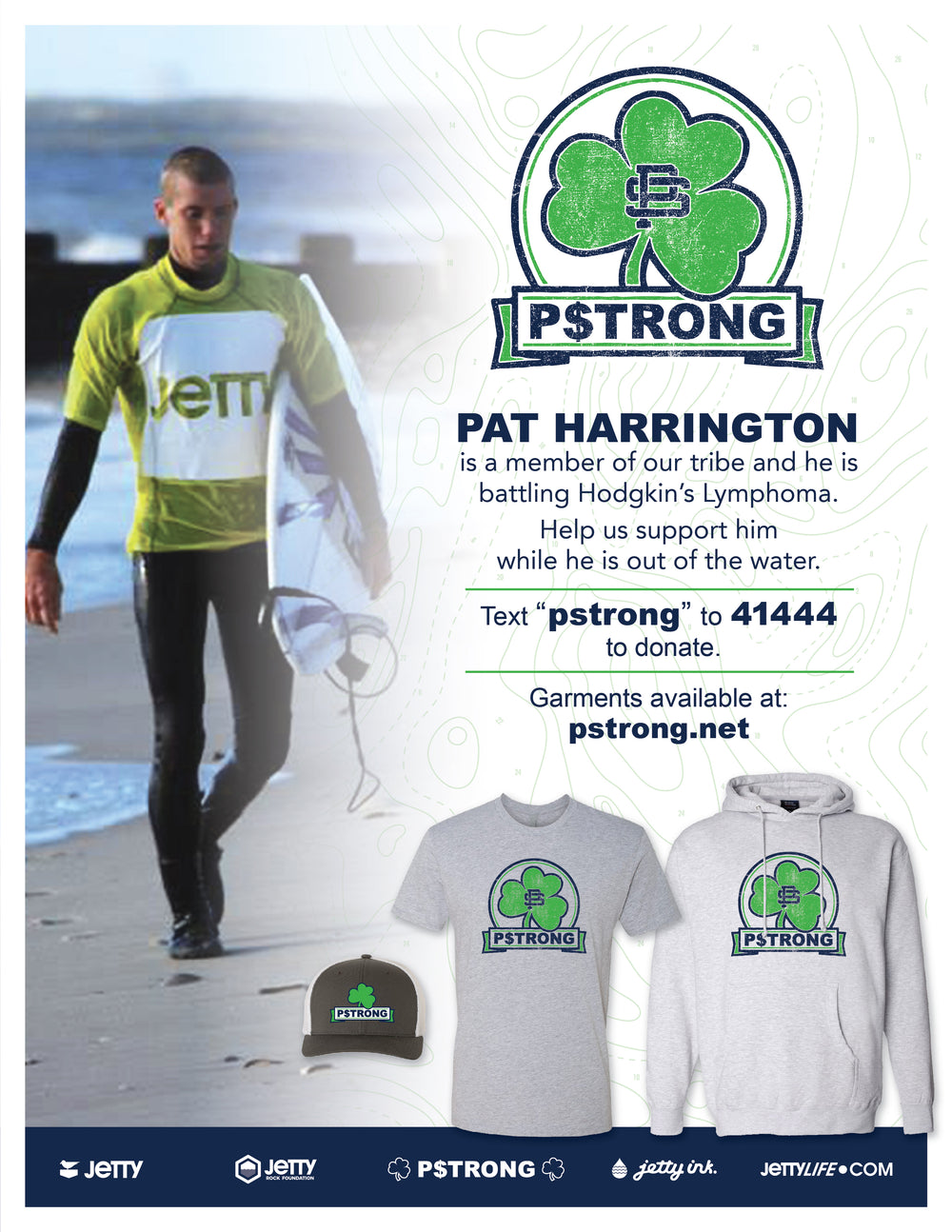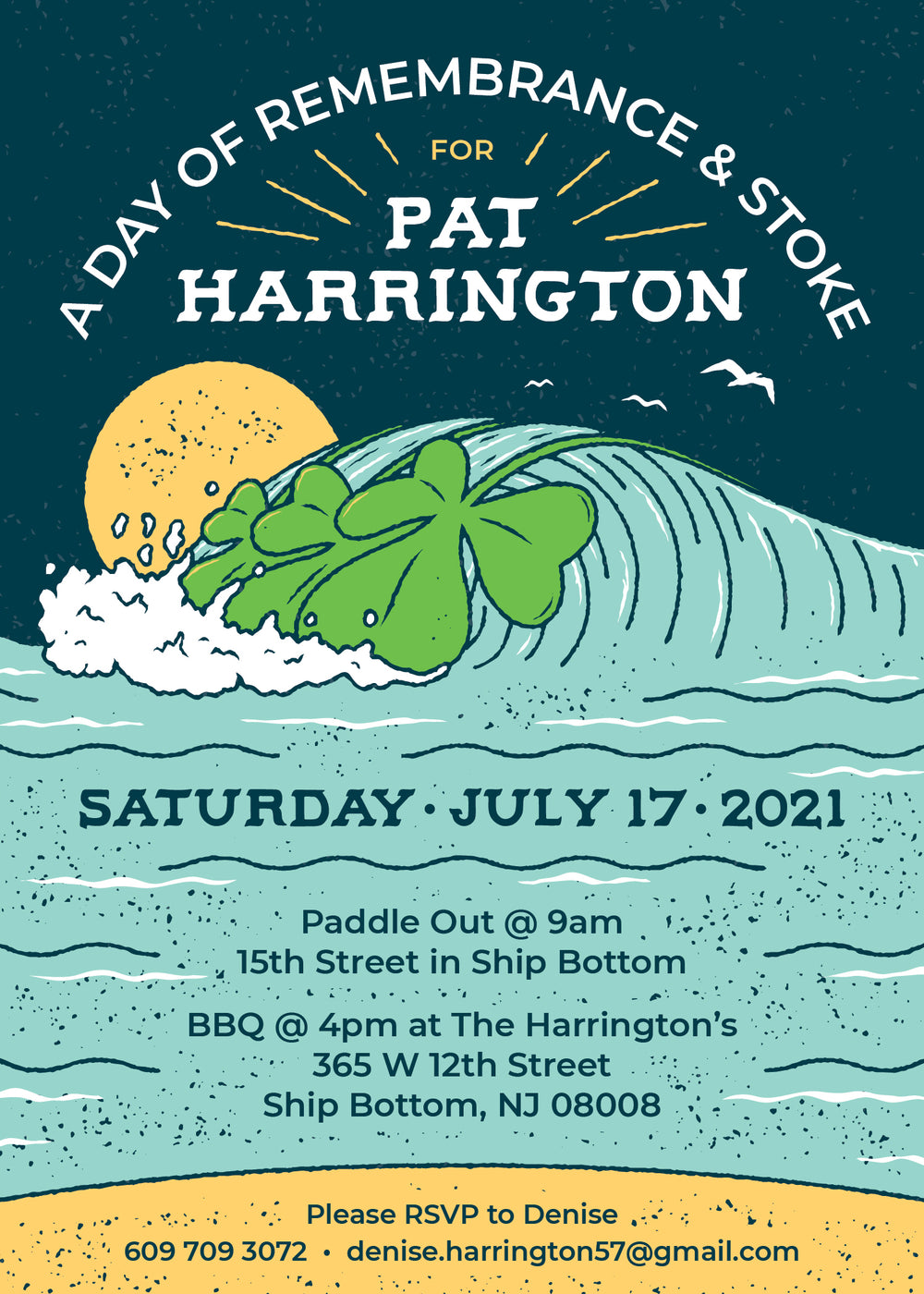 LBI Community Bridge Walk
This event (now retired) was created by two local mothers, Corinne Ruff & Melanie Magaziner. In 2016, the Jetty Rock Foundation became the beneficiary of the rasied funds which came via sponsorship and a community walk across the causeway bridge from Mud City to Ship Bottom. The funds were allocated toward scholarships at Southern Regional High School. The Bridge Walk led to $24,640.80 in scholarships and other educational support.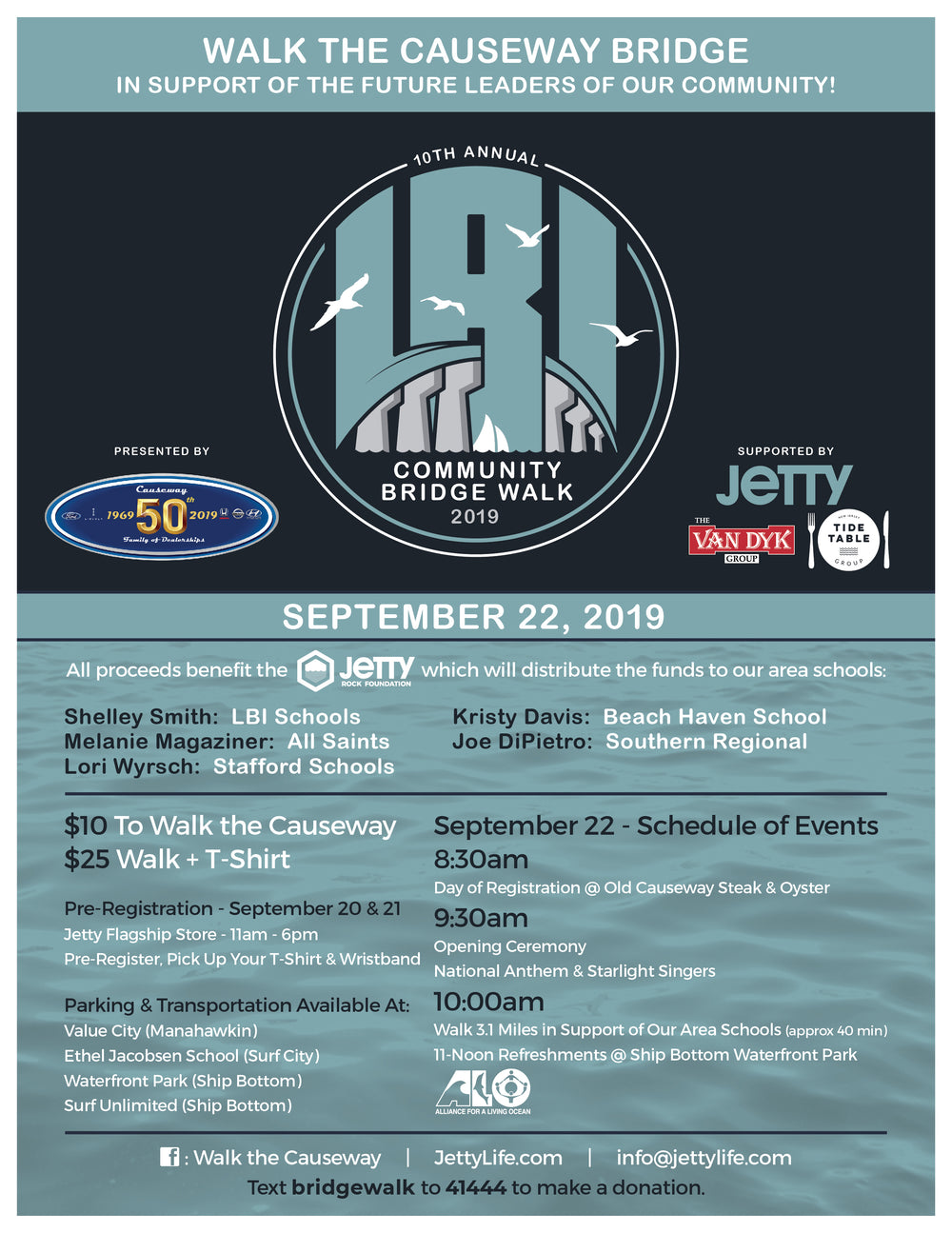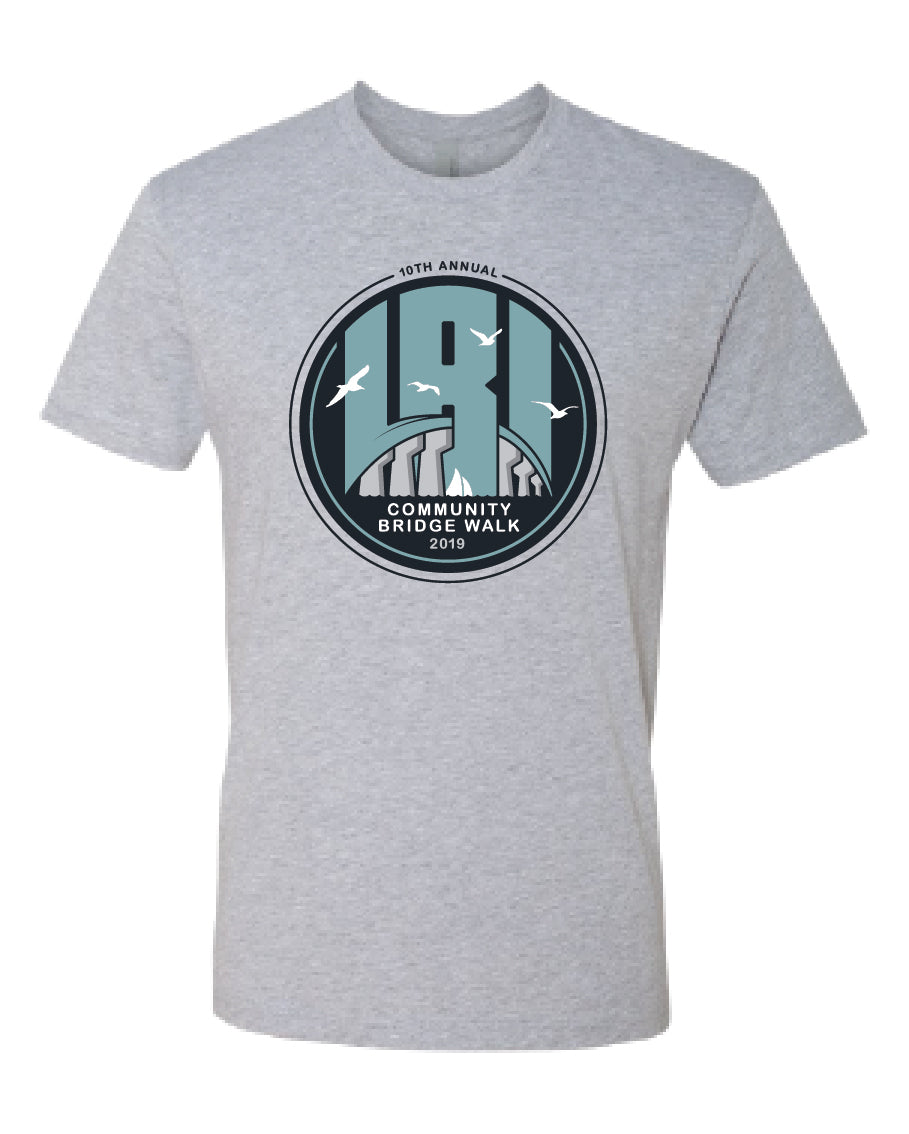 Stafford Eco Trip
From 2015 through 2018 we supported Stafford School District eco trips to Barnegat Light, NJ. Students were bused on the filed trip which included seining, the historic lighthouse and experts from Viking Village. We've invested $8,833.45 into these trips and will be bringing them back in 2022! We also hope to offer these trips to more schools and students in the near future.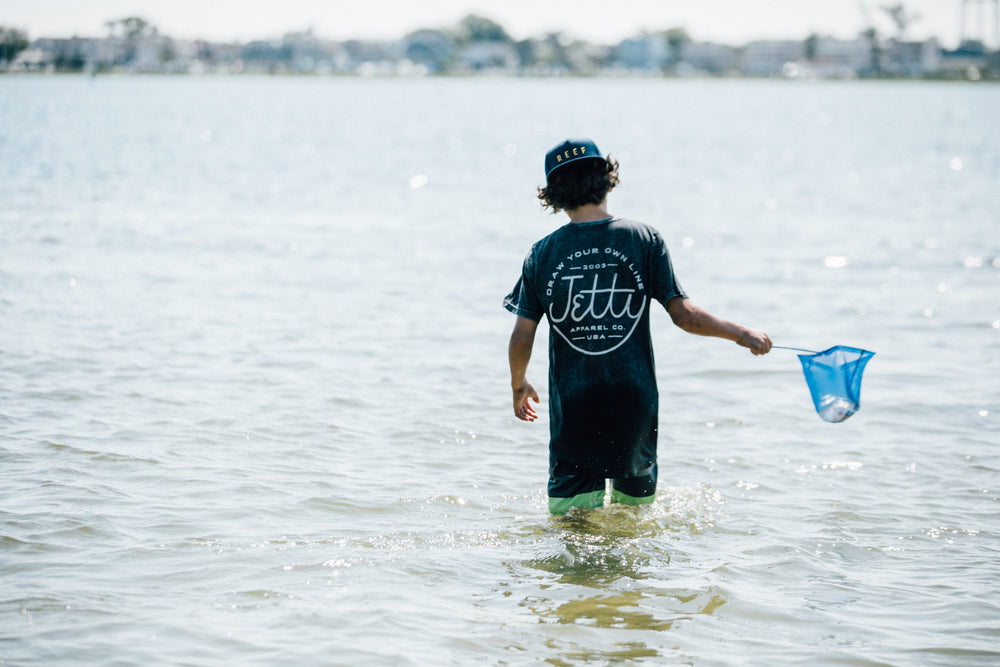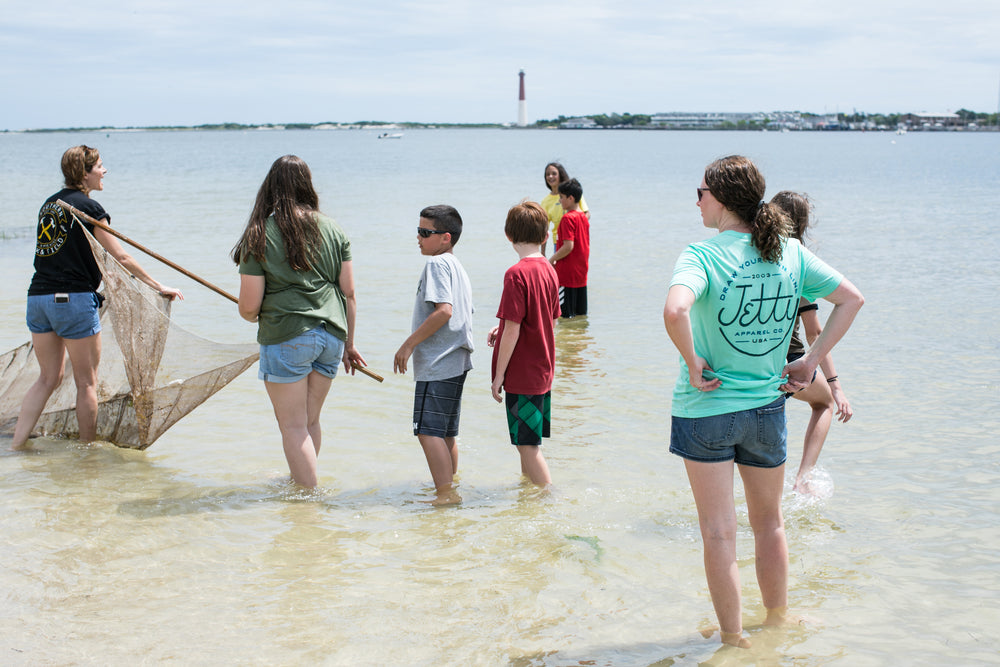 Save the Shack
This initiative was brought to our table by Jimmy Yuhas who had already spent a lot of time and effort attempting to preserve the famous shack which greeted tons of tourists, photographers and artists on the East side of the causeway bridge to Long Beach Island. Hurricane Sandy took the shack away for good, but in 2011 we sold shirts and donated $651.66 to the Stafford Historical Society.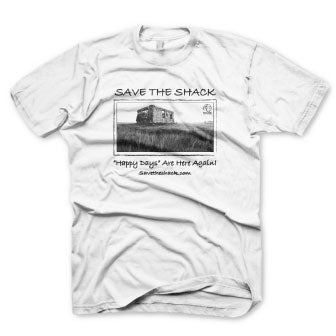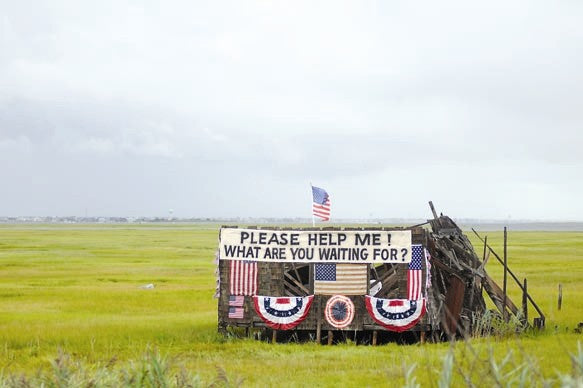 Southern Regional
Since 2012, we have worked very closely with our local school district, Southern Regional. We've made large, general donations to the SR Education Foundation in 2012 ($15,000) and 2015 ($25,000). We've supported sports, culture, the food bank and various other initiatives. We also ran our Future Leaders Entrepreneurship Program up until the pandemic. We've donated in excess of $70,000 and continue to support the students and faculty in many ways.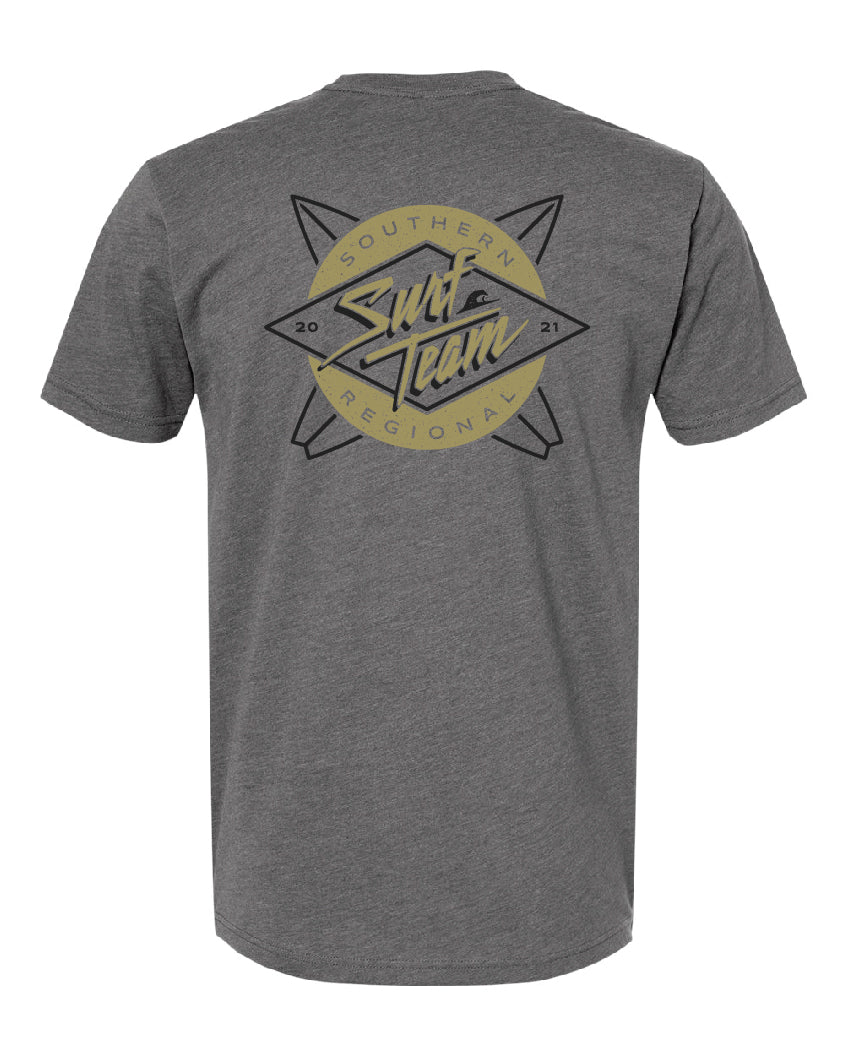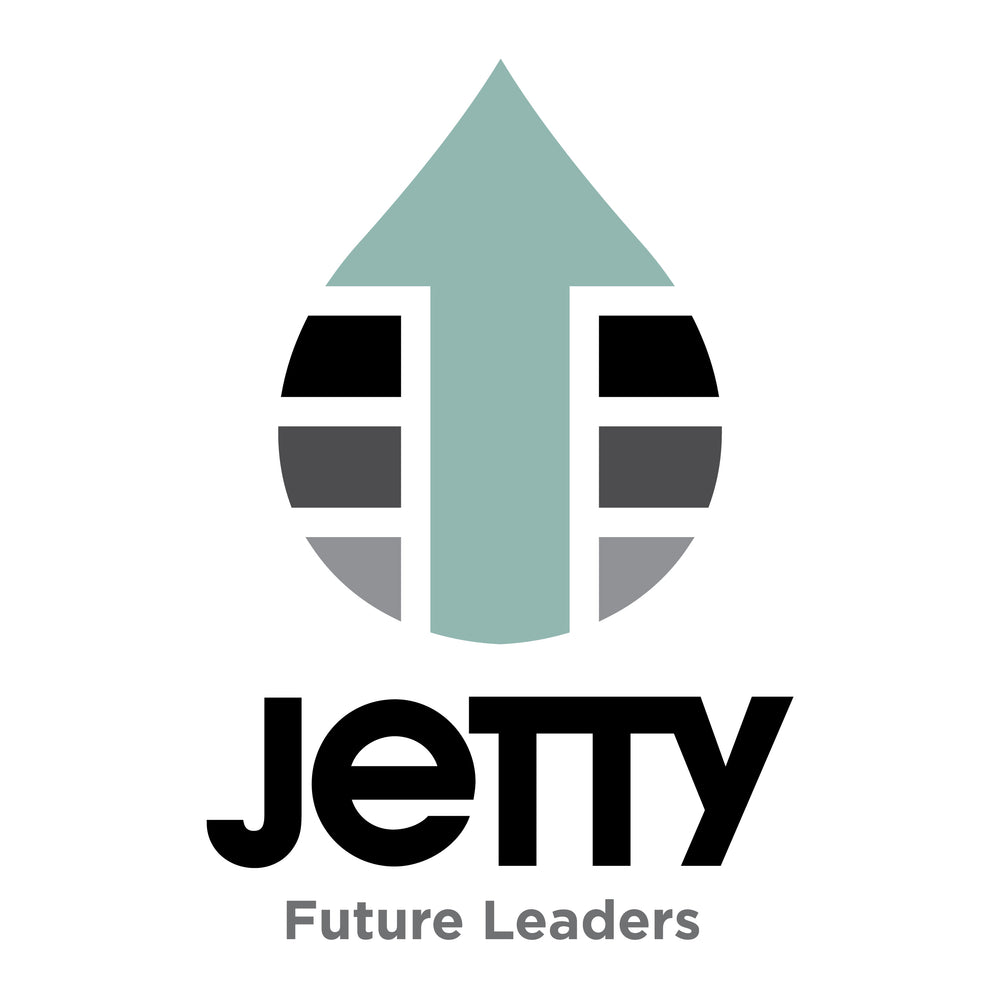 Brain Games
When a brain tumor forced a great friend out of work for an extended period of time we executed Brain Games to support him and his family. The tumor was benign and removed and Joey was able to return to work after recovering from surgery. This 2009 event raised $10,000.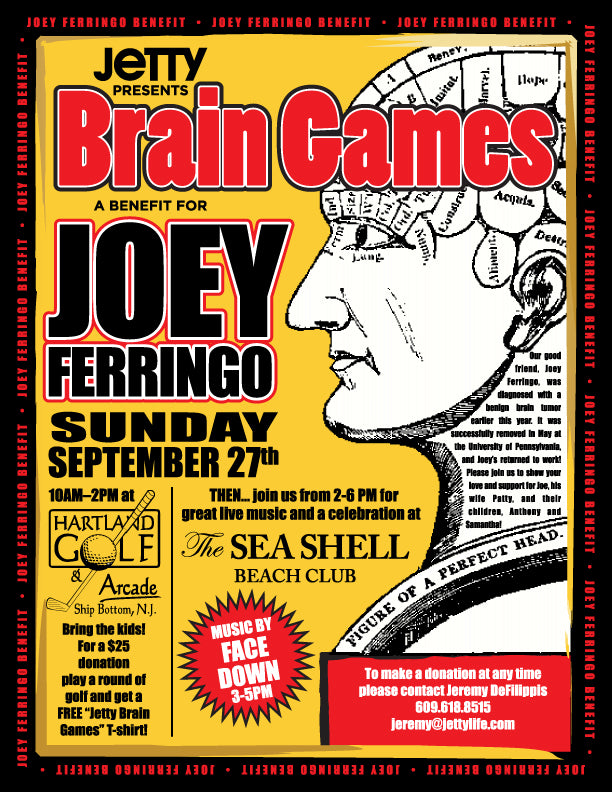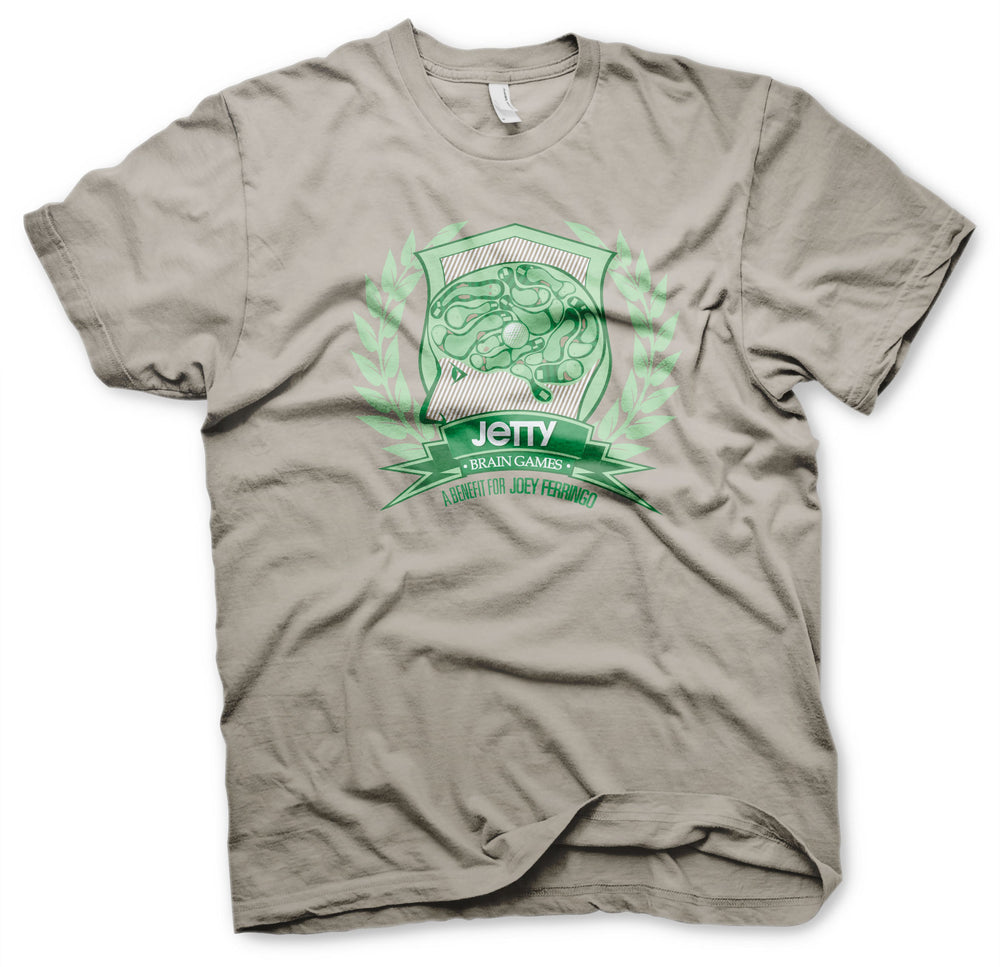 Putt for a Nut
This event was literally our first attempt at a community fundraiser for a specific individual. The funds ran through another business so we have no record of how much was raised, but we know that a positive financial and emotional impact was made!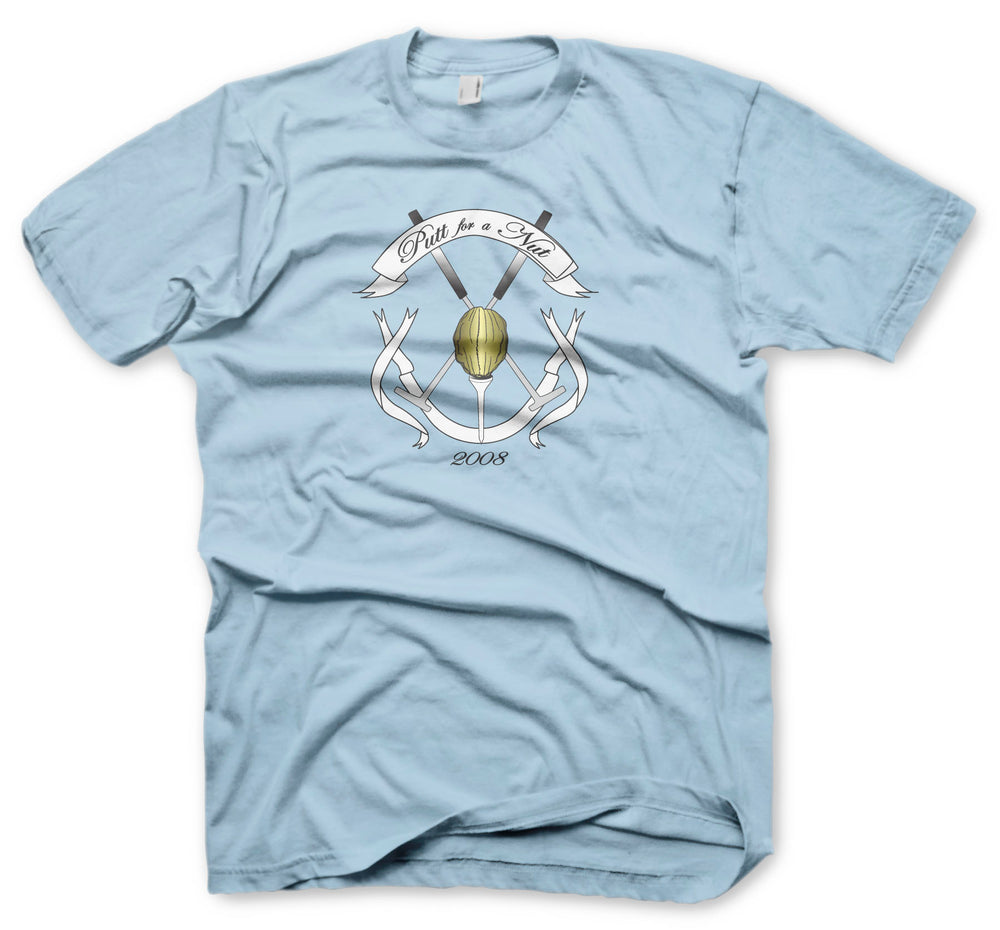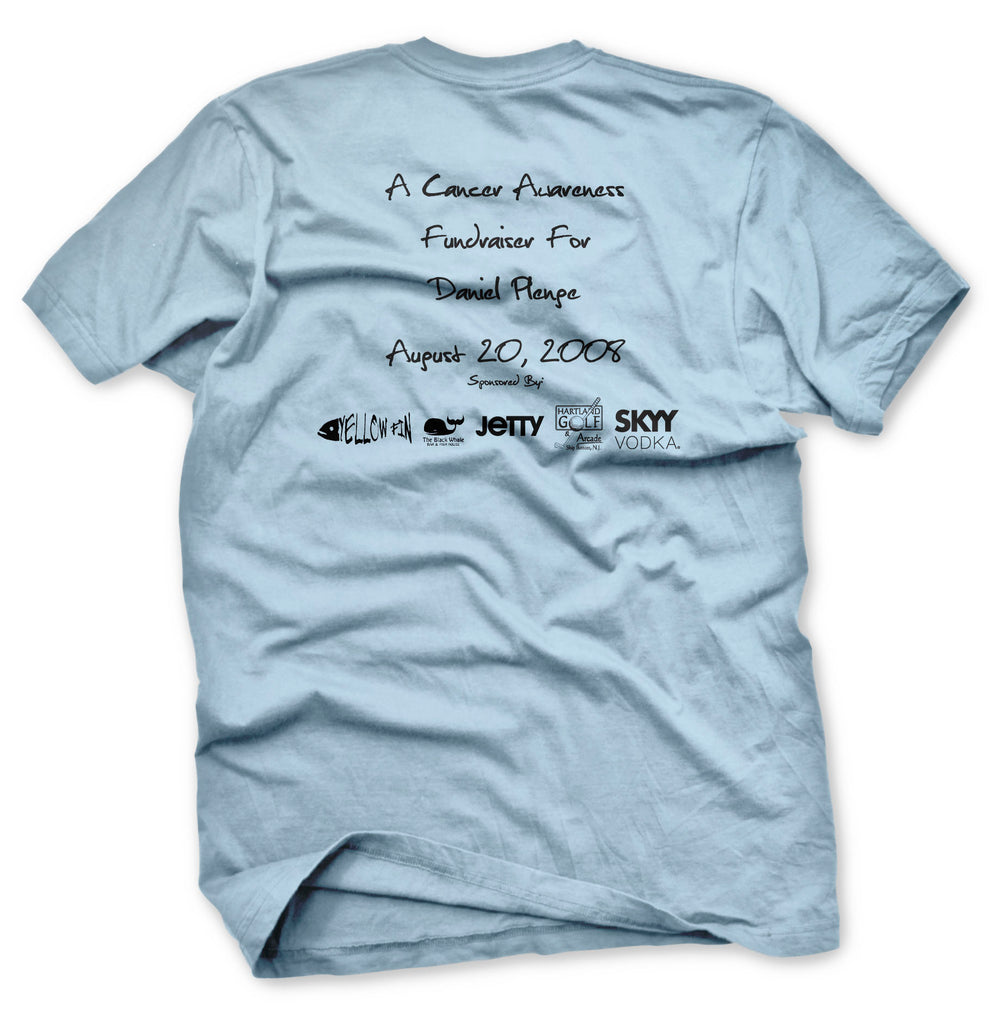 Jetty Rock Foundation Donations
| Partner | JRF Initiative | Donation Amount | Donation Date |
| --- | --- | --- | --- |